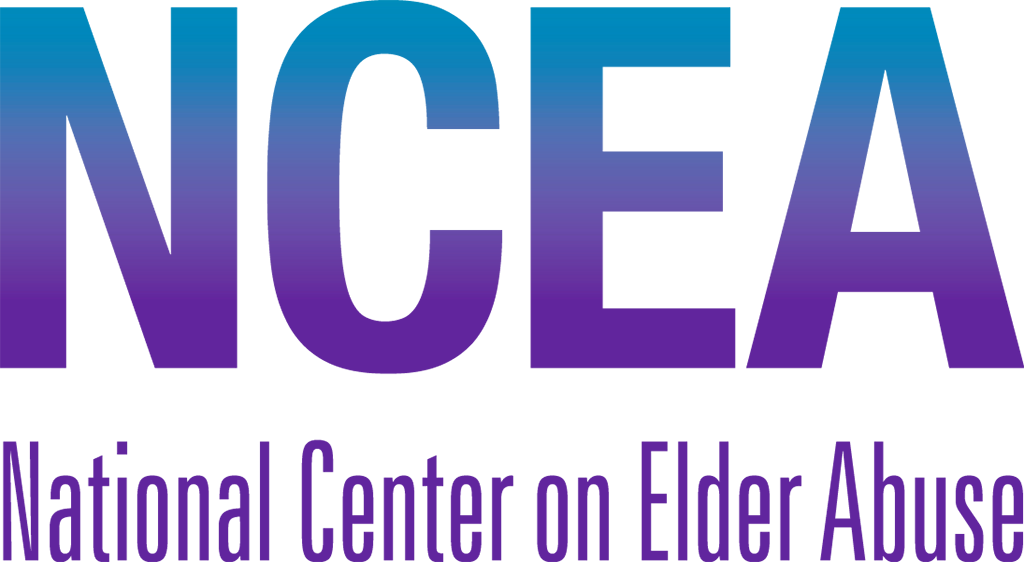 For most of us, returning to normalcy in the haze of the pandemic has been marked by a series of fits and starts. But within the elder justice arena, the past few months have been a time of progress and productivity. Federal agencies and national organizations have produced an array of relevant materials to heighten abuse awareness and prevention. In addition to providing links to useful resources, this issue of our newsletter will highlight some of the innovative ways our partners have advanced elder equity and justice.   

Recent NCEA Blogs

Good Neighbor Program: A Law Enforcement Program Worth Replicating
LGBT Community Stands Strong Against Isolation during COVID-19
Beyond COVID-19: Changes in Long-term Care Help with Financial Needs as We Age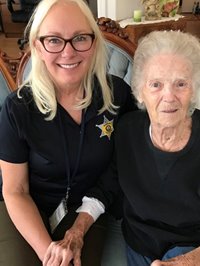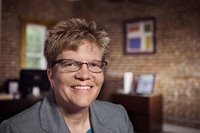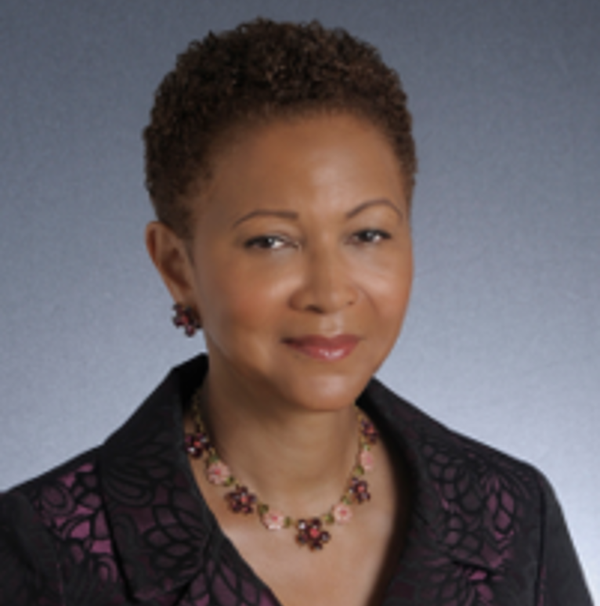 Federal Partner Resources
●  The Elder Justice Coalition 



The Elder Justice Coalition has produced a fact sheet identifying key bipartisan members of the U.S. Congress who have been impactful in shaping elder justice policy. The informational piece also spotlights relevant congressional committees with jurisdiction over elder justice-related legislation.  


●  Consumer Financial Protection Bureau Toolkit (CFPB)



The CFPB has developed several guides to help people plan and navigate future financial decision making.

Managing Someone Else's Money: Considering A Financial Caregiver? Know Your Options provides information on selecting informal and/or formal financial caregivers to help older adults manage their money, as needed. The guide also provides legal resources and contact information on becoming a Social Security representative payee and Veteran's Administration fiduciary.

Planning for Peace of Mind: Social Security Advance Designation describes options to designate up to three individuals to serve as representative payees – trusted individuals who can help manage your finances if you are unable to do so.

Planning for Diminished Capacity and Illness explains the potential impact of diminished capacity on your ability to make financial decisions and avoid fraud and other forms of financial abuse. The recently updated joint advisory from the Securities and Exchange Commission and CFPB encourages advance financial planning.

Managing Someone Else's Money defines the responsibilities of a financial caregiver, and describes how to identify financial exploitation and avoid scams. The guides are tailored to the needs of people who serve in four different fiduciary roles: power of attorney, guardians, trustees, and government fiduciaries.  


The National Consumer Voice for Quality Long-term Care (Consumer Voice) and the National Long-term Care Ombudsman Resource Center (NORC)   Consumer Voice and NORC have produced a series of outstanding and informative podcasts providing guidance to residents and families through the pandemic. Recent podcasts include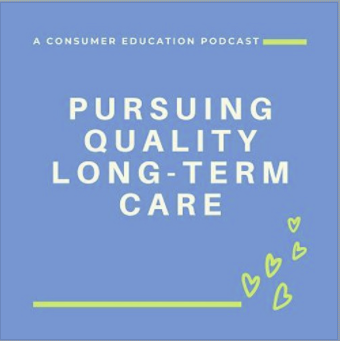 When Your Loved One is Labeled as a "Bad Fit:" How to Advocate for the Quality Care They Deserve
Resuming In-Person Ombudsman Visits During COVID-19: Tips for Identifying Trauma,
Potential Abuse, and Supporting Residents
Using the CMS Guidance to Open Nursing Home Doors
The Care of Individuals with Dementia  


Nursing Home Legislation  

On August 10, 2021, U.S. Senators Ron Wyden, Bob Casey, Richard Blumenthal, Michael Bennet, Sheldon Whitehouse, and Sherrod Brown, introduced the Nursing Home Improvement and Accountability Act to increase staffing, improve transparency and accountability, and enhance oversight within nursing homes. Measures outlined in the bill are intended to improve the quality of care in facilities and the quality of lives for residents.   


The National Center on Law and Elder Rights (NCLER)    NCLER consistently produces excellent webinars on advocating for and preserving elder rights. The following are some of their recent offerings



 


Federal Updates to COVID-19 Mortgage Relief Options An advocate's Guide to Appealing Prescription Drug Denials Role of Decision Supports in Elder Abuse Prevention and Recovery  


Fourth National Guardianship Summit    The Fourth National Guardianship Summit was held from May 10-14, 2021. Nearly 125 advocates, family guardians, judges, lawyers, scholars, and other stakeholders discussed the current state of the nation's adult guardianship system and developed recommendations for reform centered on maximizing autonomy and ensuring accountability. On the final day of the Summit, delegates approved 22 recommendations to improve and reform the adult guardianship system in the United States.  


Recent Webinars   National Alzheimer's and Dementia Resource Center: Elder Abuse in People Living with Dementia: Prevention, Detection & Intervention
National Alzheimer's and Dementia Resource Center: Person-Centered Goal Discovery for People Living with Dementia

Justice in Aging: Protecting Clients from Improper Medicare Marketing – What Advocates Need to Know
   
Upcoming Webinars   California Elder Justice Coalition – Stop the Bleeding – Temporarily Freezing Assets in Elder & Dependent Adult Abuse Cases  9/8/2021 Legal Assistance for Seniors – 2021 Elder Abuse Webinar Series  National Alzheimer's and Dementia Resource Center – Community-based Dementia Programs: Learning from Challenges and Sustaining Successes 9/14/2021 National Council on Aging: Insights and Strategies for Reducing Suicide among Older Adults 9/15/2021   Upcoming Conferences   ABA National Aging and Law Conference 10/6/2021 American Public Health Association Conference 10/24/2021 Consumer Voice Conference 11/3/2021 National Adult Protective Services Association Conference  11/8-11/10 2021 The Gerontological Society of America Conference 11/10/2021 USC Judith A. Tamkin Symposium on Elder Abuse 2/23-2/25 2022  

World Elder Abuse Awareness Day The NCEA captured 195 events from 50 U.S. states and 15 countries. The linked photo collage reflects some of WEAAD 2021 commemorations.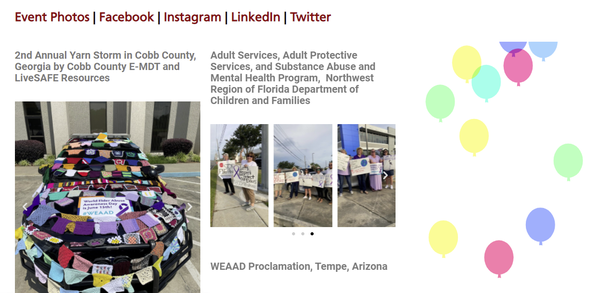 We thank our federal and national partners for furthering elder justice, and look forward to sharing more updates in future issues of the Elder Abuse Bytes E-Newsletter!