The arrival of the COVID-19 vaccine has been announced and unfortunately scammers will use this as an opportunity to obtain sensitive information. An email that may appear to be coming from Pfizer or Moderna, images below, is being sent to people asking them to take a survey in exchange for a reward. This is not a legitimate email. Do not open emails or hit links unless you know and trust the sender.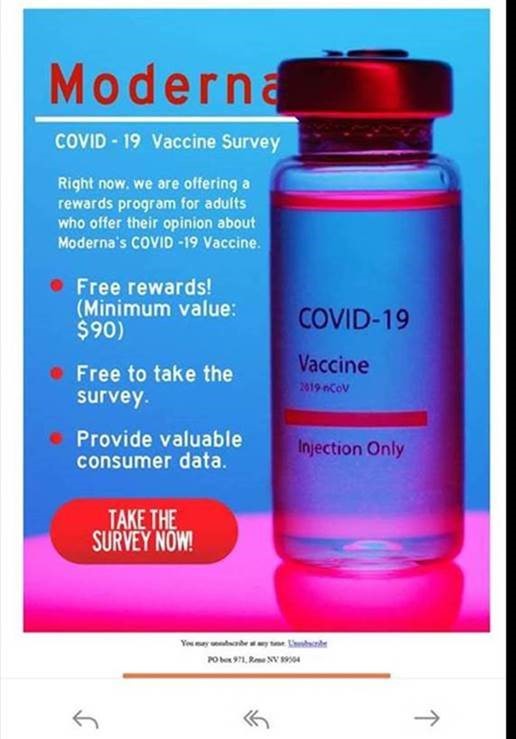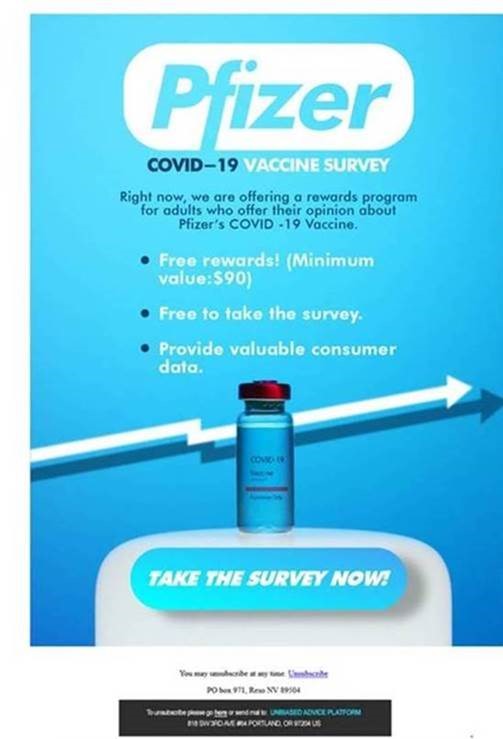 Reminders:
You will not be charged any fees to receive the vaccine. Insurance plans, medical facilities and other providers cannot charge recipients of the vaccine for any fees including the administration fee.
You cannot pay to put your name on a list to get the vaccine.
No one from a vaccine distribution site or health care payer, like a private insurance company, will call you asking for your Social Security number, or your credit card or bank account information to sign you up to get the vaccine.
Beware of providers offering other products, treatments, or medicines to prevent the virus. Check with your health care provider before paying for or receiving any COVID-19-related treatment.
If you get a call, text, email — or even someone knocking on your door — claiming they can get you early access to the vaccine, STOP. That's a scam.
Be wary of where you get your information on the vaccine. Avoid unsolicited communication. For reliable information:
How Can Your Senior Medicare Patrol Help?
Your local SMP is ready to provide you with the information you need to PROTECT yourself from Medicare fraud, errors, and abuse; DETECT potential fraud, errors, and abuse; and REPORT your concerns. SMPs and their trained team members help educate and empower Medicare beneficiaries in the fight against health care fraud. Your SMP can help you with your questions, concerns, or complaints about potential Medicare fraud and abuse issues. It also can provide information and educational presentations. For more information, contact the Senior Medicare Patrol at your local Area Agency on Aging at 1-800-994-9422 or visit https://portal.ct.gov/ads-smp.