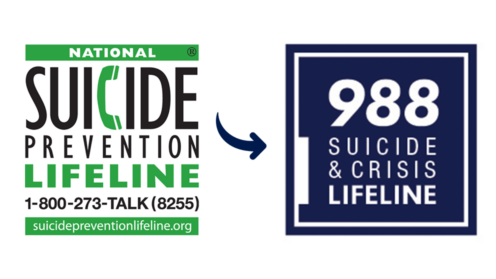 On Saturday, July 16, 2022, the U.S. transitioned the 10-digit National Suicide Prevention Lifeline to 988 – an easy-to-remember three-digit number for 24/7 crisis care. The lifeline, which also links to the Veterans Crisis Line, follows a three-year joint effort by the U.S. Department of Health and Human Services (HHS), Federal Communications Commission (FCC), and the U.S. Department of Veterans Affairs (VA) to put crisis care more in reach for people in need.
The 988 Suicide & Crisis Lifeline is a network of more than 200 state and local call centers supported by HHS through the Substance Abuse and Mental Health Services Administration (SAMHSA).
When people call, text, or chat 988, they will be connected to trained counselors that are part of the existing Lifeline network. These trained counselors will listen, understand how their problems are affecting them, provide support, and connect them to resources if necessary.
988 offers 24/7 access to trained crisis counselors who can help people experiencing mental health-related distress. That could be:
Thoughts of suicide
Mental health or substance use crisis, or
Any other kind of emotional distress
People can call or text 988 or chat 988lifeline.org for themselves or if they are worried about a loved one who may need crisis support.
988 serves as a universal entry point so that no matter where you live in the United States, you can reach a trained crisis counselor who can help.