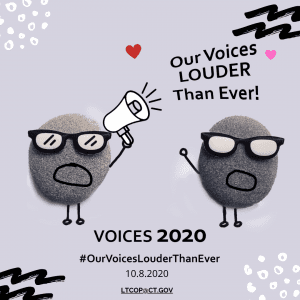 HISTORY OF VOICES FORUM
In September of 1996, nursing home resident and activist Carol Rosenwald, with assistance from the Ombudsman Program, began organizing residents across the state to advocate for improvements in the long term care system. Carol envisioned a time when the "VOICES" of nursing home residents could be heard "beyond the walls" of their facilities. She became the founder of the Statewide Coalition of Resident Councils and the driving force behind the first "VOICES" Forum in 1997. As a large group of voting constituents, residents were able to speak directly with political leaders and public officials about important issues affecting their quality of life.
VOICES FORUM TODAY
The VOICES Forum is an annual event which provides an opportunity for Presidents of Resident Councils from around the State to gather and discuss issues and concerns in their homes. The Connecticut Long Term Care Ombudsman Program is the sponsor and partner of the Statewide Coalition of Presidents of Resident Councils and the VOICES Forum.  The Coalition of Presidents of Resident Councils is an organization of residents of long term care facilities who work together on the enhancement of the quality of their care and the quality of their lives.  The Long Term Care Ombudsman Program supports the Coalition in their efforts to effect positive change in larger systems such as local and state governments.
VIRTUAL EVENT INFORMATION
This years Forum will be different for us all, but the good news is, it will allow more residents to participate! LTCOP will be hosting it using a program called Microsoft Teams which individuals can download here (free). You can simply Click on the MS Teams VOICES 2020 Event Link located on the LTCOP Web Page on the morning of October 8th. You can join the lobby ahead of time and then you will be admitted and the event will start at 9am.